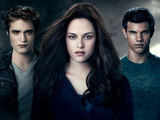 The first part of
Breaking Dawn
is still four months away, but this week's
Twilight
triple pack on Blu-ray and DVD might help quell that burning desire to see the next instalment of the vampire franchise for the time being. It's also a good week for film aficionados with the release of two top-notch and highly recommended dramas. Below, we list the biggest home releases that are in stores right now.
Battle: Los Angeles
Starring:
Aaron Eckhart, Michelle Rodriguez, Ramón Rodríguez, Bridget Moynahan
Format:
BD, DVD
The movie:
Aaron Eckhart leads this alien invasion war movie as Nantz, who takes charge in the fight against alien hostiles in Los Angeles, ably supported by the likes of Martinez (Ramón Rodríguez), Santos (Michelle Rodriguez), Harris (musician-turned-actor Ne-Yo) and Kerns (
True Blood
's Jim Parrack). The extremely shaky camerawork will no doubt be divisive, but Eckhart delivers a commendable performance and shootouts galore may appease action nuts.
Bonus features:
PlayStation 3 theme (Blu-ray only); featurettes including 'Behind the Battle', 'Building the Aliens', 'Boot Camp', 'The Freeway Battle', 'Gas Station Explosion', 'Do You Believe in Aliens?' and several more.
Watch an exclusive
Battle: Los Angeles
featurette with Aaron Eckhart and Michelle Rodriguez below:
Twilight Triple PackStarring:
Kristen Stewart
, Robert Pattinson, Taylor Lautner, Ashley Greene
Format:
BD, DVD
The movie:
For those impatiently waiting for the cinema launch of
Breaking Dawn
, look no further than the
Twilight
triple pack, which has all three currently released
Twilight
films bundled together in one set. The franchise starts off with
Twilight
, where Bella Swan (Kristen Stewart) encounters the vampiric Cullen family and starts a romance with the enigmatic Edward (Robert Pattinson).
New Moon
, the sequel, throws werewolf Jacob (Taylor Lautner) into the mix to form a love triangle between the trio as Bella tries to get over the devastation of Edward leaving the town of Forks. Finally,
Eclipse
explores Bella's desire to be turned into a vampire, while the Cullens and werewolves unite in battling an army of newborn vampires.
Watch a trailer for
The Twilight Saga: Eclipse
below:
Fair Game
Starring:
Naomi Watts, Sean Penn, Ty Burrell, David Andrews
Format:
BD, DVD
The movie:
Naomi Watts assumes the role of real-life former CIA officer Valerie Plame in this biographical look at what happened when Plame's identity as an agent was leaked to the media. Meanwhile, Sean Penn plays Plame's husband Joseph Wilson, whose public stance against the invasion on Iraq initially sets the events in motion, causing someone from the White House to make Plame a scapegoat to discredit him. Watts and Penn are excellent in this captivating drama -
even praised by Plame herself
- and its clever use of archive footage and clips gives
Fair Game
an extra layer not often seen in cinema today.
Bonus features:
Audio commentary with Valerie Plame and Joe Wilson.
Watch the trailer for
Fair Game
below:
Animal KingdomStarring:
James Frecheville, Guy Pearce, Joel Edgerton, Jacki Weaver
Format:
BD, DVD
The movie:
A must-see drama that originated in Australia,
Animal Kingdom
follows the Cody family, a notorious crime family who get into trouble with the police after three of the brothers murder two cops. From that point on, events spiral rapidly out of control as the Codys struggle to get rid of all the loose ends that could link them to the crime scene. A stunning ensemble cast and solid script elevate the movie to being one of the most recent standouts in Australian film, backed up by Jacki Weaver's Oscar nomination for her wonderful turn as the matriarch of the ruthless family.
Bonus features:
Interviews with the cast, including with Frecheville, Pearce, Edgerton and Weaver; audio commentaries with the cast and director David Michôd; a making-of featurette; trailer.
Watch the trailer for
Animal Kingdom
below:
Also out today:
Ironclad
(BD, DVD);
Essential Killing
(BD, DVD);
Conan the Barbarian
(BD)