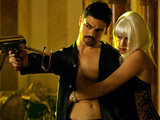 This month sees the release of the
Dominic Cooper
-starring drama film
The Devil's Double
, and we're giving you the opportunity to see the film before it hits cinemas across the UK.
Based on true events, Cooper plays Latif, a man who in 1987 is taken to see his former schoolmate Uday (also played by Cooper), Saddam Hussein's first son. Latif is told that because of the great likeness between them, he has been chosen to be Uday's body double.
Tortured and fearing for his family's safety, Latif complies. As Uday's body double, Latif witnesses brutality, betrayal and corruption.
The Devil's Devil
is out in UK cinemas on Wednesday, August 10, but preview screenings are taking place on Monday, August 8.
To be in with a chance of seeing
The Devil's Double
before its release and to check which cinemas are previewing it,
click here
. For more information, visit the
film's Facebook page
.
Watch the trailer for
The Devil's Double
below:
Terms & Conditions
All attendees must be over 18. Tickets should be presented to box office and ID may be requested. Tickets are subject to availability and will be allocated on a first come, first served basis via www.showfilmfirst.com. Each applicant may claim up to two tickets. Those who successfully book tickets must have ID available if required (driving license or credit card). No photocopies will be accepted. The tickets are not for resale. No cash alternative. No late admittance. The cinema reserves the right to refuse admission. In the event of a dispute, the cinema manager's decision is final. For full terms and conditions visit: www.showfilmfirst.com