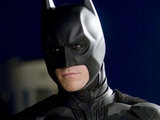 Since Adam West and Burt Ward barrelled onto to the big screen in 1966 with some
Batman
high-campery, superheroes have been a regular presence on the big screen. From Christopher Reeve's compelling turn in
Superman
to Hugh Jackman's interpretation of Wolverine, comic book adaptations have something for everyone.
2011 has been the most prolific year for costumed do-gooders:
The Green Hornet
,
Thor
,
X-Men: First Class
,
Green Lantern
and
Captain America
have all set box office tills ker-chinging.
With
The Avengers
,
The Amazing Spider-Man
,
Dark Knight Rises
and
Man of Steel
on the horizon, we want to know which superhero movie you think is the best of all time.
Get voting in our poll below!