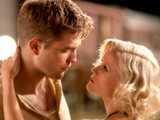 This week, we have Robert Pattinson in a non-
Twilight
role, a testosterone-fuelled and very manly brawl between
Vin Diesel
and Dwayne 'The Rock' Johnson and another Kate Hudson romantic comedy.
Below are the biggest DVD and Blu-ray releases that are available to buy right now.
Fast & Furious 5
Starring:
Vin Diesel, Paul Walker, Jordana Brewster, Dwayne Johnson
Format:
BD, DVD
The movie:
One of the better action flicks this year comes out for both Blu-ray and DVD today. In a wise direction for the franchise,
Fast & Furious 5
is less about fast cars and more about Dom (Vin Diesel), Brian (Paul Walker) and company attempting to pull off an insane heist in Rio de Janeiro. The action defies the laws of gravity at times, but its ridiculousness is part of its charm. Add to that the inspired casting of Dwayne Johnson as an DSS agent tasked with bringing Dom to justice and you have a very worthwhile film for anyone hungry for something macho.
Bonus features:
Commentary with director Justin Lin; deleted scenes; gag reel; featurettes including 'A New Set of Wheels', 'Inside the Vault Chase', 'Reuniting the Team', 'The Big Train Heist' and 'Dom vs Hobbs'.
Watch a trailer for
Fast Five
below:
Water for Elephants
Starring:
Reese Witherspoon, Robert Pattinson, Christoph Waltz, Paul Schneider
Format:
BD, DVD
The movie:
Reese Witherspoon and
Twilight
's Robert Pattinson team up in this romantic drama that takes place during the Depression era. Pattinson plays Jacob, a student who joins the circus after his parents are killed in a serious accident. There, he meets Marlena (Witherspoon) and her husband and heartless circus owner August (Christoph Waltz). Jacob is tasked with training Rosie the elephant, but it's the growing attraction between Jacob and Marlena that's the main focus of the film. Strong performances all around, particularly from Waltz, make
Water for Elephants
a decent if sugary movie. One to watch if you're a Pattinson fan.
Watch a trailer for
Water for Elephants
below:
Priest
Starring:
Paul Bettany, Cam Gigandet, Maggie Q, Karl Urban
Format:
BD 3D, DVD
The movie:
A Beautiful Mind
's Paul Bettany stars in this sci-fi/action picture as Priest, one of many who has been bestowed the power to fight vampires. When Hicks (Cam Gigandet) approaches and tells him about a vampire attack in which Priest's niece Lucy (Lily Collins) was kidnapped, the pair investigate and finds a larger insidious plot. Meanwhile, Maggie Q also joins in the fight as Priestess.
Priest
is an inoffensive film that's happy to stick to genre clichés. That's not necessarily a bad thing, though, as the direction from Scott Stewart is sound and makes
Priest
fairly entertaining.
Bonus features:
Commentary with director Scott Stewart, writer Cory Goodman, Paul Bettany and Maggie Q; deleted and extended scenes; featurettes including 'Creating the Word of
Priest
' and 'The Weapons and Vehicles of
Priest
'; PlayStation 3 theme (Blu-ray only).
Watch a trailer for
Priest
below:
A Little Bit of Heaven
Starring:
Kate Hudson, Gael García Bernal, Lucy Punch, Rosemarie DeWitt
Format:
BD, DVD
The movie:
Kate Hudson plays Marley Corbett, a woman who's diagnosed with cancer. So, it's pretty inconvenient timing that she starts falling for her handsome doctor Julian (Gael García Bernal). Marley is understandably scared of commitment given her situation, but if you've seen your fair share of romantic comedies, you can probably see where this is going. That said, Hudson is effective and great in
A Little Bit of Heaven
, her character casually brushing off the cancer when in the company of family and friends when deep down she is devastated. If there's one thing that's disappointing, it's that there isn't much chemistry between her and Bernal, but rom-com enthusiasts will find enough to like here.
Watch a trailer for
A Little Bit of Heaven
below:
Which Blu-rays and DVDs will you be buying this week? Leave your comments in the Facebook space below!