10
Movies Blog
5 must-watch April movies: Titanic 3D, Battleship, Avengers and more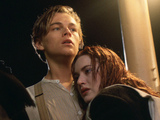 This month will see cinemas packed with an eclectic mix of films, ranging from "super movies" such as
Battleship
and
The Avengers
to
James Cameron
's 3D re-release of
Titanic
. There's even gold to be found in smaller-budgeted flicks, like acclaimed Scandinavian thriller
Headhunters
and the Joss Whedon-produced horror
The Cabin in the Woods
.
Digital Spy
previews five must-see movies for April below:
Headhunters
Release Date:
April 6
Why you should see it:
Scandinavia is a currently a hotbed of top-class film and TV entertainment, with
The Girl with the Dragon Tattoo
,
The Killing
and
Borgen
all finding audiences beyond their homeland.
Headhunters
, based on Jo Nesbo's acclaimed novel, features
Game of Thrones
's Nikolaj Coster-Waldau in a suspense-packed story involving an art thief and the biggest heist of his career.
Titanic 3D
Release Date:
April 6
Why you should see it:
James Cameron's romantic epic gets a 3D makeover for the 100th anniversary of Titanic's tragic maiden voyage. It's startling how young Leonardo DiCaprio and Kate Winslet look, and just how much you get swept along with it all - from the underwater dive with Bill Paxton to the touching love story and breathtaking sinking. This is proper, widescreen moviemaking and
must
be seen on the big screen.
Battleship
Release Date:
April 11
Why you should see it:
Rihanna makes her screen debut in Peter Berg's naval blockbuster, which brings an alien twist to Hasbro's classic board game. It's
Transformers
meets
Top Gun
, as epic spectacle blends with military bravado. Taylor Kitsch, Liam Neeson, Brooklyn Decker and Alexander Skarsgård are among the supporting cast.
The Cabin in the Woods
Release Date:
April 13
Why you should see it:
This long-delayed film from
Buffy
and
Angel
duo Joss Whedon and Drew Goddard spins the horror genre on its head as a group of college kids get more than they bargain for when they head off to a remote cabin. It's best to go into
Cabin
knowing as little as possible, because the surprise twists and turns give it impact. It's smart, witty and incredibly inventive.
The Avengers
Release Date:
April 26
Why you should see it:
Marvel brings together its biggest superheroes as Tom Hiddleston's
Thor
villain Loki assembles an alien army to wreak havoc on the world. Captain America (Chris Evans), Iron Man (Robert Downey Jr), Thor (Chris Hemsworth) and Hulk (Mark Ruffalo) are among the comic book characters who'll have to put their differences aside to save the world. We can't wait!
Which movies are you looking forward to seeing in April? Should we have included Mirror Mirror or Salmon Fishing in the Yemen? Leave your comments below...