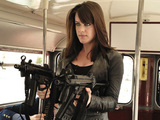 Each Friday,
Digital Spy
highlights the biggest and best video highlights of the past seven days.
This week it's the final trailer for
The Master
, an alternate opening for
The Avengers
and on-set interviews with the cast of
Cockneys vs Zombies
, as well as the trailer for crime thriller
Pusher
.
Also continue below to see the first trailer for the upcoming film
Sightseers
from director
Ben Wheatley
.
---
'The Master': Cast embrace animal instincts in final trailer
The final trailer for
The Master
was released this week and features a seductive and violent Joaquin Phoenix. Philip Seymour Hoffman and Amy Adams also star in the upcoming drama. Hoffman recently
disputed claims that the film is about the Church of Scientology.
The Master
is released in the US on September 21 and the UK on November 9.
---
'The Avengers' alternate opening scene released online
Avengers
fans are being treated in the run-up to the film's DVD release. Last week saw the release of a
deleted scene featuring Bruce Banner
and this week the release of an alternate opening to the film. The scene sees footage of New York after the 'Tesseract Event' and would have seen the film begin at its climax.
The Avengers
is released on DVD and Blu-ray in the UK on September 17.
---
'Cockneys vs Zombies' on-set interviews: Michelle Ryan, Honor Blackman
Michelle Ryan and other members of the cast are interviewed on set during filming last year. The former
EastEnders
star described the film as a "zomedy" that can be "quite violent and quite harsh" at times. She also discusses the current appetite for zombie movies.
Cockneys vs Zombies
is out now.
---
'Pusher' trailer: Orbital score Richard Coyle's crime thriller
Pusher
has debuted a new trailer exclusively on
Digital Spy
. Richard Coyle and Agyness Deyn lead the cast under the direction of Luis Prieto. Music from British electronic band Orbital features in the preview.
Pusher
is released in the UK on October 12.
---
'Kill List' director's new film 'Sightseers' releases first trailer
The first trailer for Ben Wheatley's
Sightseers
was released earlier this week. The new film from the
Kill List
director follows a couple's holiday in Yorkshire which later takes a disturbing turn. It stars Steve Oram and Alice Lowe and is released on November 30.
---
Which movie videos, virals, interviews or trailers have you enjoyed this week? Leave your comments in the space below!