Mission Impossible III
(TBC)
Director: J.J. Abrams
Screenwriter: J.J. Abrams, Alex Kurtzman, Robert Orci
Starring: Tom Cruise, Ving Rhames, Philip Seymour Hoffman, Lawrence Fishburne, Jonathan Rhys-Meyers, Michelle Monaghan
Running time: TBC mins
Synopsis: Ethan Hunt (Cruise) returns for more espionage adventures.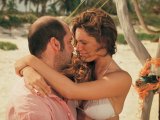 Three
(15)
Director: Stewart Raffill
Screenwriter: Stewart Raffill
Starring: Kelly Brook, Billy Zane, Juan Pablo Di Pace
Running time: 100 mins
Synopsis: Businessman Jack (Zane) and trophy wife Jennifer (Brook) have their luxurious cruise cut short when their boat catches fire and sinks, leaving Jennifer and hired help Manuel to set up cosy camp on an island. Before long their idyll is interrupted when Jack washes up on the same beach.
Confetti
(TBC)
Director: Debbie Isitt
Screenwriters: Debbie Isitt
Starring: Martin Freeman, Jessica Stevenson, Stephen Morgan, Meredith MacNeill, Robert Webb, Jimmy Carr, Julia Davis
Running time: 104 mins
Synopsis: Mockumentary about three couples vying to win the title of 'Most Original Wedding of the Year'.
Love+Hate
(15)
Director: Dominic Savage
Screenwriters: Dominic Savage
Starring: Samina Awan, Wasim Zakir, Nichola Burley, Tom Hudson
Running time: TBC mins
Synopsis: Two young people from starkly different backgrounds fall in love, sparking off complications over their family, friends and faith as they find out whether their differences are truly only skin deep.
The Magician
(15)
Director: Scott Ryan
Screenwriters: Scott Ryan
Starring: Scott Ryan, Ben Walker
Running time: 85 mins
Synopsis: Dark comedy about an Australian hitman who is being filmed by his film student friend as he goes about his sordid business.
View trailer
:
Windows Media Player 100k
,
850k
;
QuickTime 100k
,
850k
;
Real Player 100k
,
850k