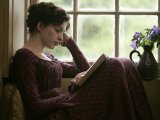 Becoming Jane
(PG)
Director: Julian Jarrold
Screenwriter: Kevin Hood
Starring: Anne Hathaway, James McAvoy, Julie Walters, James Cromwell, Maggie Smith
Running time: 120 mins
Synopsis: The story of a pivotal liaison between young author Jane Austen (Hathaway) and Irishman Tom Lefory (McAvoy).
Trailer:
Quicktime
/
WMP
/
Realplayer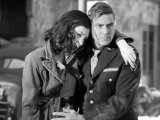 The Good German
(TBC)
Director: Steven Soderbergh
Screenwriter: Paul Attanasio
Starring: George Clooney, Cate Blanchett, Tobey Maguire
Running time: TBC mins
Synopsis: When US war correspondent Jake Geismer (Clooney) is sent to cover the Potsdam Peace Conference in 1945 Berlin, he is pulled into a story of intrigue when he meets up with his former mistress (Blanchett).
Inland Empire
(TBC)
Director: David Lynch
Screenwriter: David Lynch
Starring: Laura Dern, Jeremy Irons, Justin Theroux, Harry Dean Stanton
Running time: 172 mins
Synopsis: Laura Dern plays an actress who is afraid that the film she's working on is cursed in the latest offering from surreal director David Lynch.
Trailer:
WMP
/
Realplayer
/
Quicktime
Norbit
(12A)
Director: Brian Robbins
Screenwriter: Eddie Murphy, Charles Murphy, Jay Scherick, David Ron
Starring: Eddie Murphy, Thandie Newton, Cuba Gooding Jr., Eddie Griffin, Terry Crews
Running time: 101 mins
Synopsis: Weak-willed Norbit (Murphy) is pressured into marrying a overly-strong-willed woman (also Murphy), which becomes all the more annoying when he stumbles across his ideal woman (Newton).