Movies Release Diary
May 18, 2007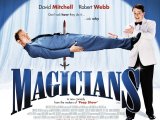 Magicians
(15)
Director: Andrew O'Connor
Screenwriter: Jesse Armstrong, Sam Bain
Starring: Robert Webb, David Mitchell, Jessica Stevenson, Peter Capaldi
Running time: 90 mins
Summary: Two rival magicians confront each other after a guillotine mishap.
Trailers:
WMP
/
Realplayer
/
Quicktime
Exclusive Mitchell & Webb clip:
Low
/
Medium
/
High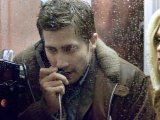 Zodiac
(15)
Director: David Fincher
Screenwriter: James Vanderbilt
Starring: Mark Ruffalo, Jake Gyllenhaal, Robert Downey Jr
Running time: 157 mins
Summary: Thriller based on the true story of a serial killer who terrorised the San Francisco Bay area and the men who hunted him down.
Trailer:
WMP
/
Realplayer
/
Quicktime
Joe Strummer: The Future Is Unwritten
(15)
Director: Julien Temple
Running time: 124 mins
Summary: Julien Temple takes a look at the life of his friend and iconic frontman of The Clash, Joe Strummer.
Trailer
Black Snake Moan
(15)
Director: Craig Brewer
Screenwriter: Craig Brewer
Starring: Samuel L. Jackson, Christina Ricci, Justin Timberlake
Running time: 115 mins
Summary: A blues singer (Jackson) tries to cure a woman's (Ricci) unhealthy sex drive.