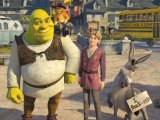 Shrek The Third
(TBC)
Director: Raman Hui, Chris Miller
Screenwriter: Jeffrey Price, Peter S Seaman, Jon Zack
Starring: Mike Myers, Antonio Banderas, Cameron Diaz, Eddie Murphy, Justin Timberlake
Running time: TBC mins
Summary: Shrek, Donkey and Puss set off in search of Artie in the hope of returning to their quiet life in the swamp.
Trailer 1:
WMP
/
Realplayer
/
Quicktime
Trailer 2:
WMP
/
Realplayer
/
Quicktime
Hostel 2
(TBC)
Director: Eli Roth
Screenwriter: Eli Roth
Starring: Lauren German, Bijou Phillips, Roger Bart, Richard Bugl
Running time: 93 mins
Summary: The gruesome sequel sees three young Americans become the victims when they're lured into an exotic natural spa.
Trailer:
WMP
/
Realplayer
/
Quicktime
The Flying Scotsman
(15)
Director: Douglas Mackinnon
Screenwriter: John Brown, Declan Hughes, Simon Rose
Starring: Johnny Lee Miller, Laura Fraser, Billy Boyd, Brian Cox
Running time: 102 mins
Summary: Drama based on the true story of Graeme Obree, who built his own bicycle from washing machine parts and rode it to gold at the world championships.
Trailer:
WMP
/
Realplayer
/
Quicktime