Movies Release Diary
August 3, 2007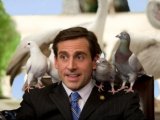 Evan Almighty
(TBC)
Director: Tom Shadyac
Screenwriter: Robet Florsheim, Josh Stolberg, Steve Oedekerk
Starring: Steve Carell, Morgan Freeman, John Goodman, Lauren Graham
Running time: TBC mins
Summary: Following on from
Bruce Almighty
, former newsreader Evan Baxter (Carell) has now been elected to congress. Once there, God (Freeman) instructs him to build an ark.
Trailer:
WMP
/
Realplayer
/
Quicktime
Happily N'Ever After
(TBC)
Director: Paul J. Bolger
Screenwriter: Rob Moreland
Starring: Sarah Michelle Gellar, Freddie Prinze Jr, Sigourney Weaver, Patrick Warburton
Running time: TBC mins
Summary: Cinderella (Gellar) must take on her wicked stepmother Freida (Weaver) without the help of her Prince Charming (Warburton).
Trailer:
WMP
/
Realplayer
/
Quicktime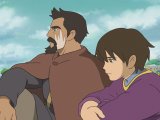 Tales From Earthsea
(TBC)
Director: Goro Miyazaki
Screenwriter: Goro Miyazaki
Starring: Junichi Okada, Aoi Teshima, Bunta Sugawara
Running time: 115 mins
Summary: Directorial debut of Hayao Miyazaki's son, which follows the quest of a wizard to find the source of the evil forces which are shaking the world. Japanese with English subtitles.
Trailer:
WMP
/
Realplayer
/
Quicktime
The Hoax
(15)
Director: Lasse Hallström
Screenwriter: William Wheeler
Starring: Richard Gere, Hope Davis, Julie Delpy, Alfred Molina
Running time: 116 mins
Summary: A writer (Gere) tries to convince his publisher that he's the official biographer of reclusive Howard Hughes.