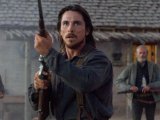 3:10 To Yuma
(15)
Director: James Mangold
Screenwriter: Cathy Konrad
Starring: Russell Crowe, Christian Bale, Ben Foster, Gretchen Mol, Peter Fonda
Running time: 117 mins
Summary: Modern take on Elmore Leonard's classic western. When outlaw Ben Wade (Crowe) is captured, Civil War veteran Dan Evans (Bale) volunteers to deliver him to trial on the 3:10 train to Yuma.
Trailer:
WMP
/
Realplayer
/
Quicktime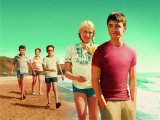 December Boys
(12A)
Director: Rod Hardy
Screenwriter: Marc Rosenberg
Starring: Daniel Radcliffe, Teresa Palmer, Christian Byers, Lee Cormie, James Fraser, Jack Thompson, Kris McQuade, Frank Gallacher
Running time: 105 mins
Summary: Four teenage orphans grow up in a convent in 1960s Australia and compete for prospective parents. Based on the novel by Michael Noonan.
Trailer:
WMP
/
Realplayer
/
Quicktime
Disturbia
(15)
Director: D J Caruso
Screenwriter: Christopher B Landon, Carl Ellsworth
Starring: Shia LaBeouf, Carrie-Anne Moss, David Morse, Sarah Roemer
Running time: 104 mins
Summary: Landed with a sentence of house-arrest, troubled and voyeuristic Kale becomes convinced that one of his neighbours is a serial killer.
Trailer:
WMP
/
Realplayer
/
Quicktime
In The Hands Of The Gods
(15)
Director: Gabe Turner, Benjamin Turner
Starring: Sami Hall Bassam, Mike Fisher, Jeremy Lynch, Danny Robinson, Paul Wood
Running time: 106 mins
Summary: The true story of five young British footballers' journey to Argentina to meet their hero, Diego Maradona.
Shoot 'Em Up
(TBC)
Director: Michael Davis
Screenwriter: Michael Davis
Starring: Clive Owen, Paul Giamatti, Monica Bellucci
Running time: 108 mins
Summary: A man must protect a newborn from criminals when he delivers it during a shootout.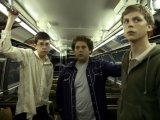 Superbad
(15)
Director: Greg Mottola
Screenwriter: Seth Rogan, Evan Goldberg
Starring: Jonah Hill, Michael Cera,
Running time: 113 mins
Summary: Two geeky high school seniors try to buy booze for the girls of their dreams.
Trailer:
WMP
/
Realplayer
/
Quicktime