16
Movies Feature
Double take: Angelina, The Rock and 16 more stars with their stunt doubles
We nearly did a double take when we saw
an image of Tom Hardy's stunt double
on the set of
Mad Max: Fury Road
.
Stuntman, actor and dead-ringer to Hardy, Jacob Tomuri shared snaps of himself with the 37-year-old star on his Instagram page after completing scenes for George Miller's fourth instalment of the post-apocalyptic drama.
We're seeing double as we bring you more stars and their stunt-performing shadows below:
1 and 2. Benedict Cumberbatch and Zachary Quinto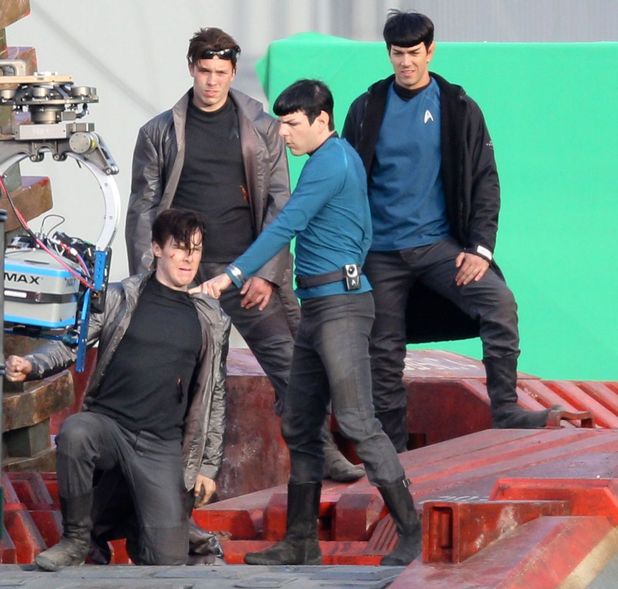 Benedict Cumberbatch and Zachary Quinto film a fight scene for
Star Trek Into Darkness
, as their stunt doubles wait on standby.
3. Emilia Clarke
Emilia Clarke's
Game of Thrones
doppelgänger Rosie Mac recently revealed herself on Instagram. Aspiring actress and model Mac, who is just 18 and hails from Cornwall, serves as a body double for Clarke's Daenerys Targaryen for season five of the bloodthirsty HBO show.
4. Adam Sandler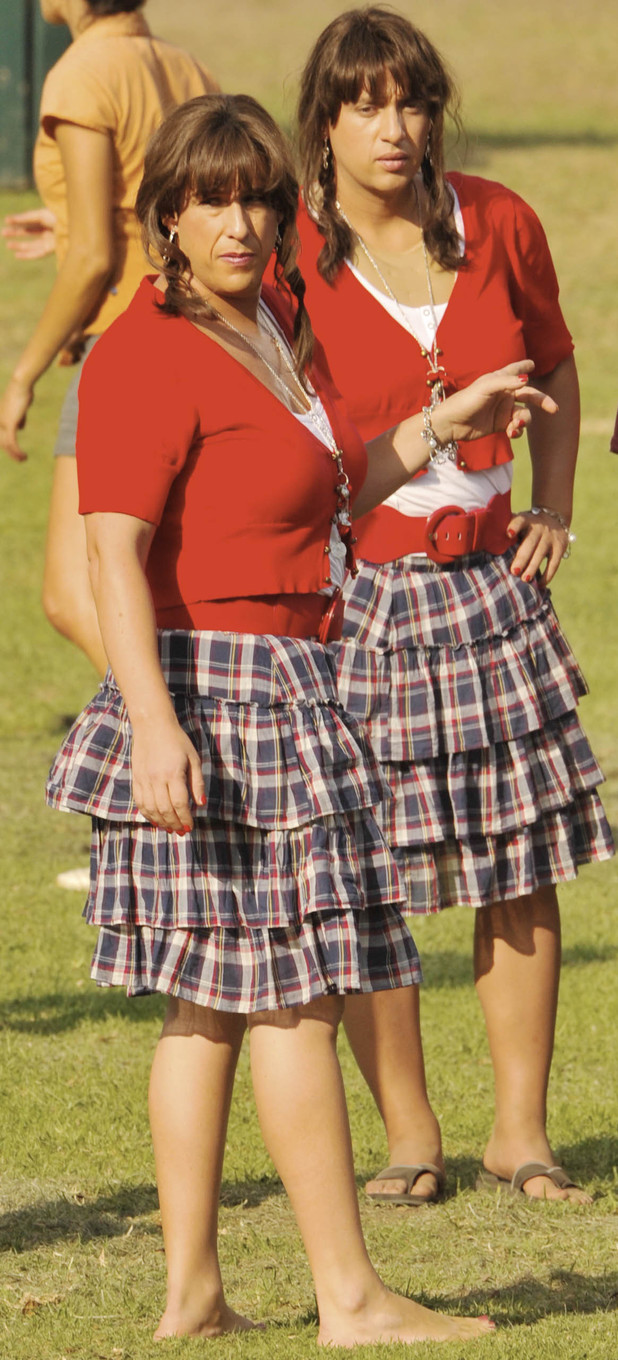 Adam Sandler stands next to his stunt double on the set of his humourless 2011 movie
Jack and Jill
in Los Angeles.
5. Chris Evans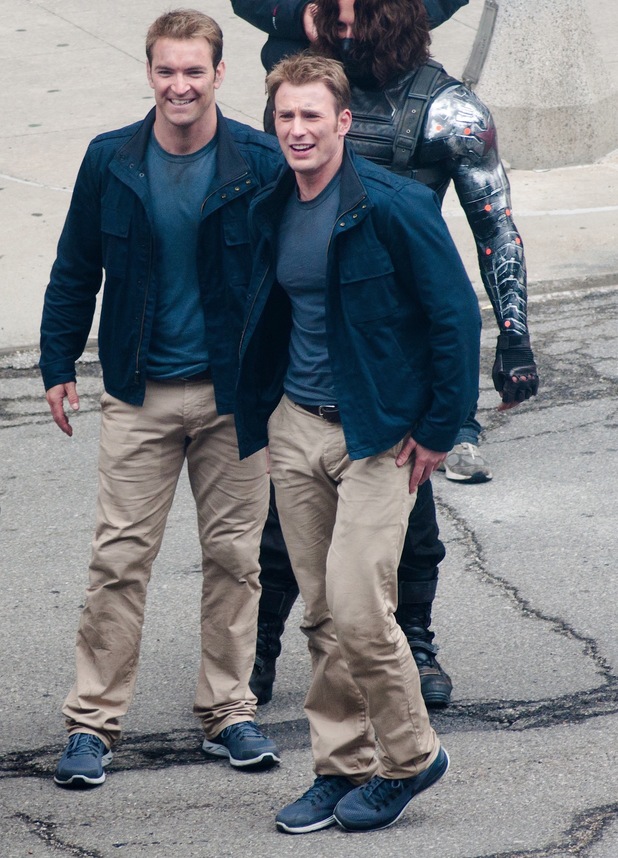 Chris Evans
and stunt double Sam Hargrave look relaxed as they share a joke on the set of
Captain America: The Winter Soldier
in Cleveland last year.
6. Carrie Fisher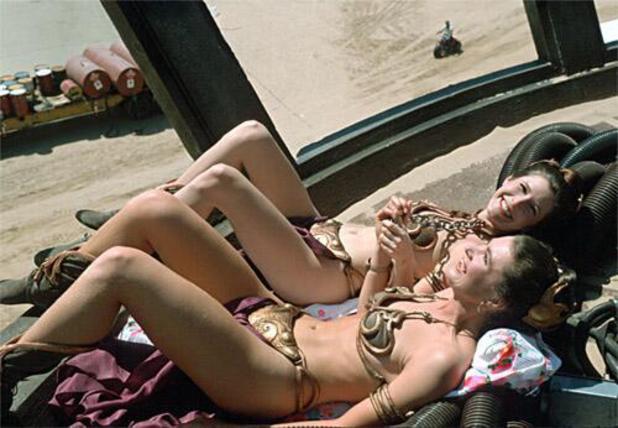 Carrie Fisher poses with her stunt double in
behind-the-scenes pictures from the original Star Wars trilogy
, as shared recently by Peter Mayhew (Chewbacca).
7. Angelina Jolie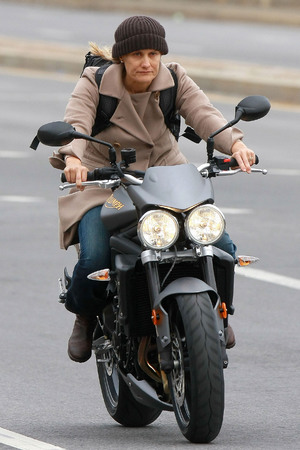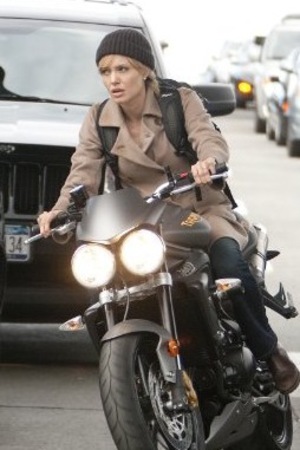 Angelina Jolie's stunt double Eunice Huthart - the
first person to file a lawsuit against News Corporation in the US
in relation to phone hacking, which was later dismissed - performs a stunt during the filming of
Salt
in Washington DC.
And on the right, Angelina Jolie's Evelyn Salt rides a motorcycle in a scene from the 2010 crime thriller.
8. Brad Pitt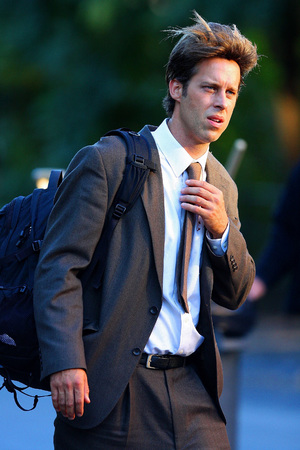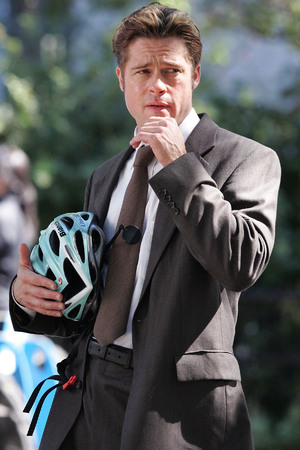 Brad Pitt and his generously-wigged double are pictured on the set of the Coen brothers'
Burn After Reading
in New York back in 2007.
9. Christian Slater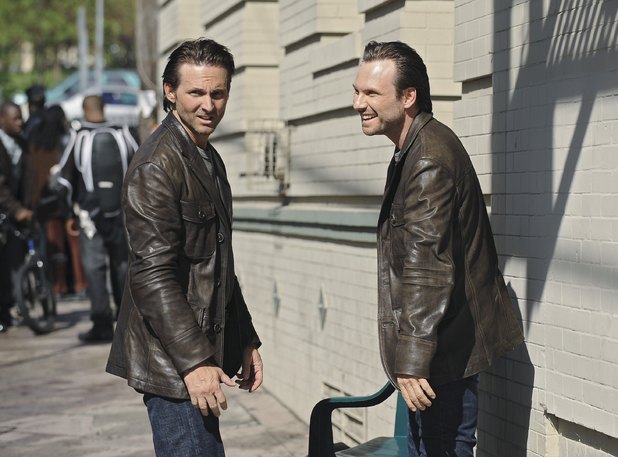 Christian Slater and his stunt double are spotted filming an episode for ABC's former crime series
The Forgotten
.
10 and 11. Harrison Ford and Shia LaBeouf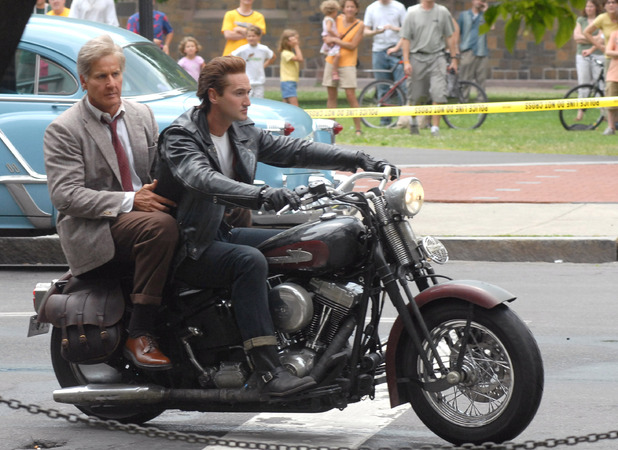 Harrison Ford and Shia LaBeouf's stunt doubles speed around on a motorcycle during filming of Steven Spielberg's
Indiana Jones and the Kingdom of the Crystal Skull
at Yale University Campus in New Haven, Connecticut.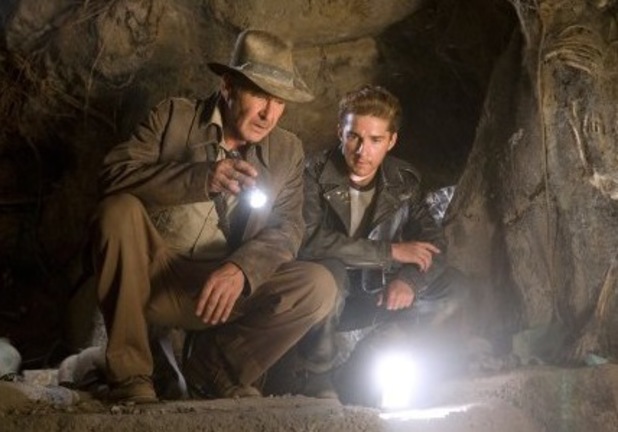 And here's the real actors in a scene from the 2008 movie.
12. Liam Neeson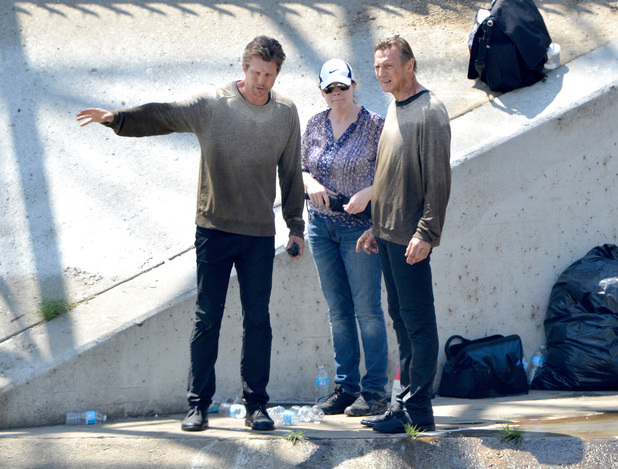 Liam Neeson chats with his stunt double on the set of
Taken 3
in Los Angeles.
13. Lily Collins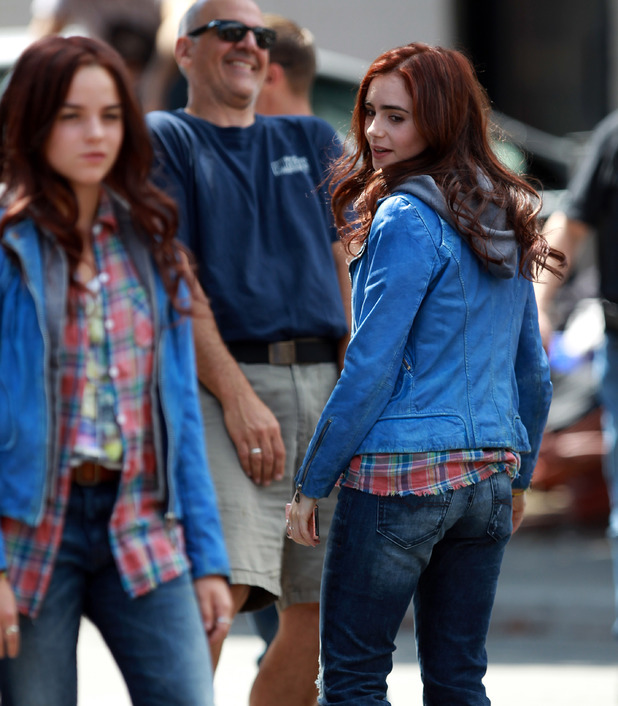 Lily Collins catches a glimpse of her stunt double on the set of
The Mortal Instruments: City of Bones
in Toronto.
14. Mark Ruffalo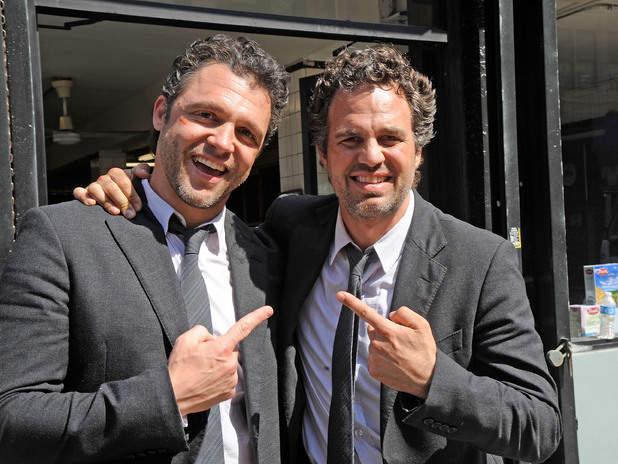 Mark Ruffalo poses with stunt double Anthony Molinari while filming on the set of
Now You See Me
in New York.
15. Michael Keaton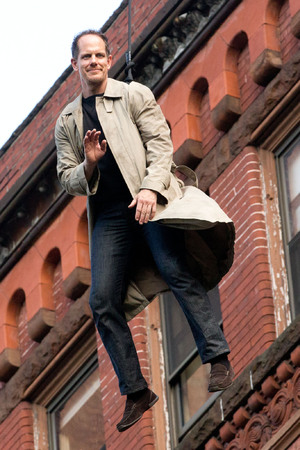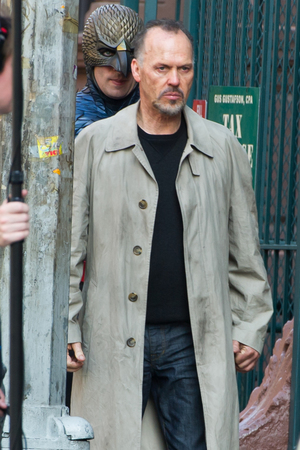 Michael Keaton's stunt double suspends from a building on the set of
Alejandro González Inarritu's Birdman
in the Theater District, New York.
16. Dwayne Johnson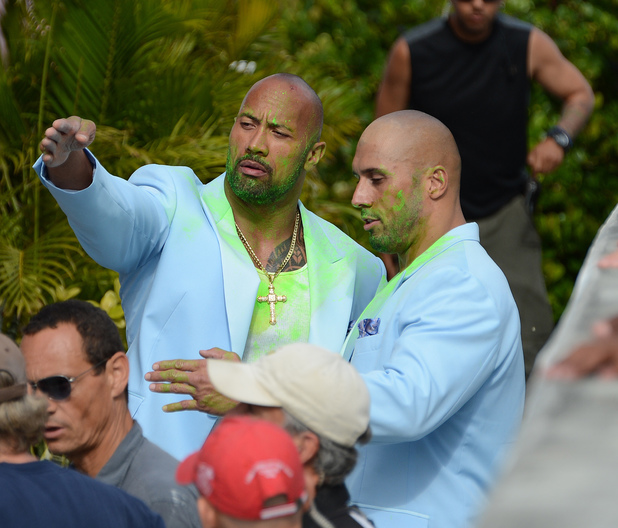 Dwayne 'The Rock' Johnson and his stunt double are covered in neon paint as they film Michael Bay's
Pain and Gain
.
17. Taylor Lautner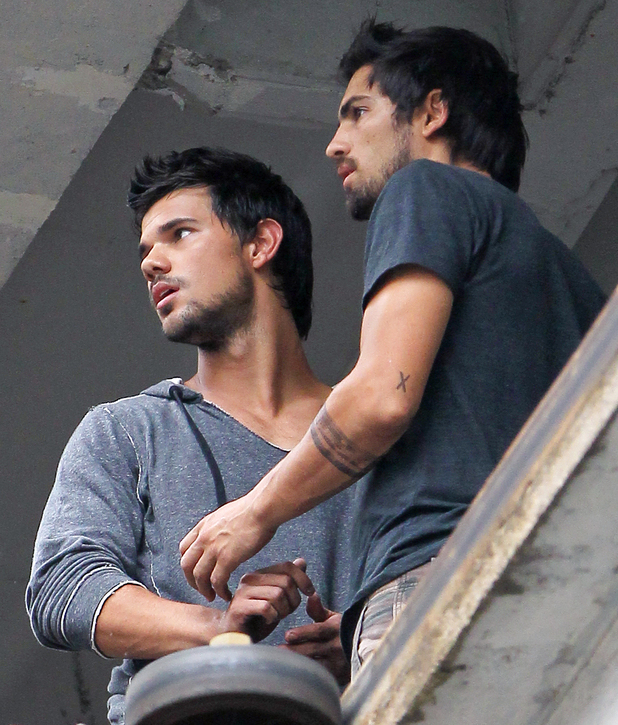 Taylor Lautner and his body double share some stunt ideas before shooting a scene for action thriller
Tracers
.
18. Andrew Garfield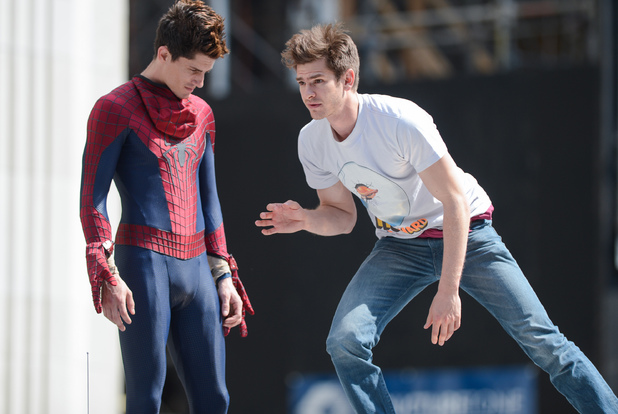 Andrew Garfield rehearses a scene with his stunt double William Spencer on the set of
The Amazing Spider-Man 2
in Madison Square Park, New York, last year.