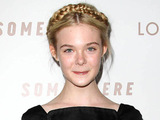 Elle Fanning
may be only 13 years old, but the list of top Hollywood directors she's worked with already includes David Fincher, Sofia Coppola and Tony Scott. With
Super 8
, the actress adds JJ Abrams to that already impressive list.
Fanning delivers
Super 8
's best performance as Alice, a girl from a broken home who escapes her negligent father by making a zombie movie with a group of young filmmakers from her school.
Digital Spy
caught up with Elle to talk about being the only girl on set, working with Abrams and why she'd like to follow in the footsteps of big sister Dakota Fanning and be directed by Steven Spielberg.
Watch our Elle Fanning video interview below:
More Super 8 coverage:
> 'Super 8' review
> Watch a six-minute 'Super 8' preview
> 'Super 8': New poster for JJ Abrams, Spielberg sci-fi
> 'Super 8': Ten teasers about the sci-fi smash