Movies News
Weinstein Company confirms 'Scream 4'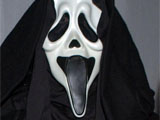 The Weinstein Company has confirmed that it is making the fourth instalment in the
Scream
franchise.
The last film in the Wes Craven horror trilogy was released in 2000.
It is not confirmed whether Craven will be returning or if writer Kevin Williamson is on board the project.
The press release described the fourth movie as "re-starting the
Scream
franchise", hinting that a new cast and further movies may also be in the pipeline.