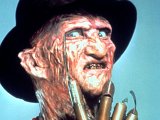 Robert Englund
has confirmed that he has no plans to play Freddy Krueger in the new
Nightmare On Elm Street
movie.
New Line is in talks with Michael Bay, Brad Fuller and Andrew Form of Platinum Dunes to revamp the 1984 Wes Craven classic.
Englund, who played the razor-fingered child killer in eight movies in the horror franchise, said a new actor should reinterpret the role.
Speaking at the San Diego Comic Con, he said: "Well I doubt [I'll be in it] because I made
Nightmare On Elm Street
. That's me. This is a remake of the original and I'm sure they want to take advantage of the new special effects to exploit the dream landscape and that they would want to reinterpret everything. I would hope that they would.
"I would hope that Freddy doesn't look like me. I would hope that maybe he's wearing janitor's overalls and maybe he has an old baseball hat on instead of my fedora. Let a new actor reinterpret it. That's the fun of remaking it."
However, he added: "If they want to ask me to play the dream analysis expert, that would be fun."