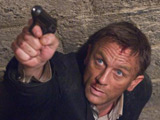 Latest James Bond instalment
Quantum Of Solace
will get its first public screening at the BFI London Film Festival.
The movie will be shown at the event on October 29, the same night as its world premiere.
Frost/Nixon
,
Ron Howard
's drama based on David Frost's TV interview with Richard Nixon, will open this year's festival.
The film follows a young Frost (Michael Sheen) as he attempts to secure ex-US president Nixon (Frank Langella) for a TV special.
Now in its 52nd year, the London Film Festival will also host 15 world premieres including Danny Boyle's
Slumdog Millionaire
, Nick Moran's
Tellstar
, Gerald McMorrow's
Franklyn
, and
Sugar
, Anna Boden and Ryan Fleck's follow-up to
Half Nelson
.
Oliver Stone's George Bush biopic
W
, Rian Johnson's conman drama
The Brothers Bloom
, Jonathan Demme's
Rachel Getting Married
and Steven Soderbergh's
Che
will also play at the event.
The festival's artistic director Sandra Hebron said of the lineup: "We are delighted to be able to present such a diverse and high quality programme of films and events, with an unprecedented number of world, international and European premieres.
"We are excited that London in October will play host to world renowned directors, writers and actors, as well as to some of the most important new voices in international cinema."
The Times BFI 52nd London Film Festival runs from October 15 to 30.