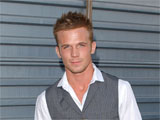 Cam Gigandet
, Shane West and Rachael Leigh Cook are in talks to join the cast of
Kerosene Cowboys
, says
The Hollywood Reporter
.
Based on Randy Arrington's novel, the Mario Van Peebles-directed action film will focus on pilots in an elite Navy attack squadron. Gigandet will take on the lead role as a top pilot, West his friend-turned-rival and Cook a journalist and Gigandet's love interest.
Adam Prince, Dave Riggs and Nickolai Susby wrote the screenplay.
Producers are aiming to shoot the movie in Russia and the Naval Air Station Fallon in Nevada from October. The production will utilise real military hardware, including US and Russian aircraft.