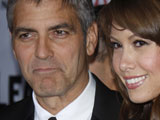 George Clooney
has been tipped to play the lead role in a remake of Alfred Hitchcock's horror classic
The Birds
.
The original 1963 movie, which starred Rod Taylor and Tippi Hedren, was based on a Daphne Du Maurier story about a small Californian town where birds suddenly start attacking people.
Taylor has said that he is sceptical about movie remakes but would be happy to see Clooney take over his role as lawyer Mitch Brenner.
"I often cringe when I hear mention of remakes but I'll hold judgement, especially since I've been told Clooney's the favourite," he told the
Daily Express
.
However, co-star Hedren is not so keen on the film: "Can't we find new stories, new things to do? Must you be so insecure that you have to take a film that's a classic and try to do it over?"
> Click here for our review of Clooney's latest movie Burn After Reading