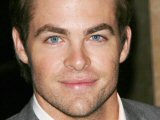 Star Trek
actor
Chris Pine
has vowed not to mimic William Shatner when he takes on the role of Captain James T. Kirk in the sci-fi prequel.
The actor initially steeped himself in
Trek
history to research his role for the J.J. Abrams movie but then decided to "embrace" rather than impersonate Shatner's famous portrayal of Kirk.
"All I was doing was heaping upon myself an incredible amount of responsibility, weighing myself down with 'You must remember to act this way' and such," he told
Variety
.
"That's when I was really able to let go and accept the parameters that [Abrams] set forth in the beginning, which was to bring what was special and unique about us to the roles."