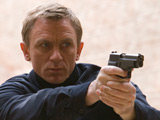 Daniel Craig
has revealed that he wants to see Q back in the James Bond franchise.
The character, who was played in 17 movies by Desmond Llewelyn, has been absent from Craig's first two 007 adventures along with secretary Miss Moneypenny.
Speaking to
Rotten Tomatoes
, Craig suggested that it is time for the gadget expert to return to the spy series.
"We should give Q to a good actor," he said. "We should find an actor and find out what they think and find a good story. If we just drop it in there and then go to the basement and there is Q with exploding bananas, it is not going to work.
"Q has been done and it has been done brilliantly and with great humour. We have to find a way to bring Q into it properly. I think we owe it to the franchise."
> Click here for our Quantum Of Solace review