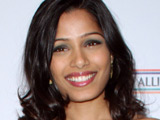 Slumdog Millionaire
star
Freida Pinto
has admitted that she is stunned by the film's success.
The 24-year-old actress, who played the role of Latika, revealed that the movie's cast and crew feel overwhelmed after receiving recognition at the Oscars, BAFTAs and Golden Globes.
"It's been six months and nothing has sunk in yet," Pinto told the
News Of The World
.
"I'm still the same sensitive and simple girl who always dreamed about becoming an actress. The only thing that's changed is that the girl walking around in jeans and tees has now taken to wearing designer dresses.
"Even after the Golden Globes, I remember calling up my co-star Dev Patel the next morning and saying: 'Did we actually win four Golden Globes or am I dreaming?'"
Pinto also confessed that she shares a close bond with Patel (Jamal Malik), but stopped short of confirming rumours that they are an item.
"Working with Dev was, I think, the best thing that could happen to me," she explained.
"He and I shared this unselfish territory where we would give and take and both of us would help each other. We were in the same situation, our first film with director Danny Boyle, and we could really relate to each other."
The star was recently
recruited
for a new Woody Allen project, which will also feature Naomi Watts, Josh Brolin and Anthony Hopkins.