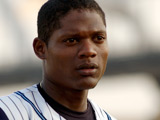 Ryan Fleck has said that he hopes the star of his latest movie continues to act in the future.
Algenis Perez Soto
was an untrained ex-baseball player when he was picked to play the lead role in
Sugar
, which was co-written and directed by Fleck and his partner Anna Boden.
Fleck told
DS
: "I hope he has an acting career. I think he'd like to pursue it. His English is much better now so hopefully he can continue to find roles.
"I think he's much stronger if he's allowed to find a Spanish speaking role, but there are plenty of Spanish speaking movies being made around the world and hopefully he can find the right parts."
He added: "We weren't opposed to using known, established actors, there just weren't any that could fill these shoes. It's a very specific part, for a young, Dominican baseball player who can act."
> Click here to read the rest of our interview with Ryan and Anna