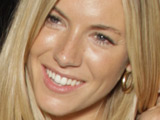 Sienna Miller
has admitted that she was initially intimidated by the use of guns on the set of her new movie.
The actress, who stars as Baroness Anastasia DeCobray in
G.I. Joe: The Rise Of Cobra
, told
London Lite
that she was forced to learn how to use firearms for the role.
Miller said: "I can now do martial arts. I can fire weapons and I'm a good little scrapper. I had to get fit for the first time in my life.
"I did six weeks of fight training and initially firing guns was quite a big deal. I found it intimidating, not coming from a gun culture, and I couldn't do it without squinting."
Miller recently said that she hoped to win greater box office
credibility
through films like
G.I. Joe: The Rise Of Cobra
.