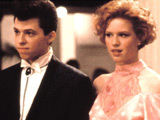 Pretty In Pink
stars Molly Ringwald and Jon Cryer have paid tribute to the late
John Hughes
.
The 59-year-old writer/director
died
after suffering a heart attack while taking a morning walk in New York.
He was best known for his movies primarily aimed at teenagers during the 1980s.
Ringwald starred in Hughes films
Sixteen Candles
,
The Breakfast Club
and
Pretty In Pink
and was the poster girl for teen angst for her era.
The 41-year-old, who recently gave birth to
twins
, said that she was "stunned and incredibly sad" to learn about his passing. However, she insisted that he will remain an "important part" of her life,
E!
reports.
She said: "He will be missed - by me and by everyone that he has touched. My heart and all my thoughts are with his family now."
Cryer, who played outcast Duckie Dale in the Hughes-penned
Pretty In Pink
, said that he "was an amazing man to work for and with".
The
Two And A Half Men
star added: "He respected young actors in a way that made you realise you had to step up your game because you were playing in the big leagues now. That's why he got such great performances out of his actors. My heart goes out to his wife Nancy and their children."
It was reported earlier that
Ferris Bueller's Day Off
star Matthew Broderick and
Home Alone
's Macaulay Culkin had paid their
respects
to the director.
> In Pictures: The films of John Hughes