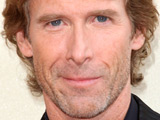 Mark Kermode
has hit out at
Transformers
director Michael Bay.
The BBC film critic told
Metro
that Bay is the most overrated director currently working in cinema.
Kermode said: "His films take millions of dollars but I think he's terrible. His films are rotten. It gives the lie to the idea critics can affect how well a film does.
"If critics made any difference Michael Bay wouldn't be making movies. He's just terrible. Watching a Michael Bay movie is like being hit over the head with tax returns."
When asked if stars ever reacted badly to his reviews, he added: "Every now and then you get a small bit of comeback. An actor very gently punched me on air for saying something about Keira Knightley.
"I called her Ikea Knightley as her acting was so wooden. She is better now. She was pretty good in
The Duchess
."