Movies News
Lucasfilm: 'Red Tails reports inaccurate'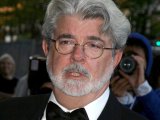 Lucasfilm
has denied reports that its World War II drama
Red Tails
is to undergo extensive reshoots with
George Lucas
at the helm.
Rumours surfaced
earlier today
claiming that producers Lucas and Rick McCallum were unhappy with director Anthony Hemingway and were planning to make significant changes to the movie, which centres on pilots overcoming racism within the armed forces to form the first African-American fighter squadron in US military history.
"The story that is circulating about production on
Red Tails
is completely inaccurate," Lucasfilm told
DS
.
"George Lucas and Rick McCallum are very pleased with the work Anthony Hemingway did directing the film and additional shooting that is scheduled to take place was built into production before it began, as it is on all our films."
Expected in US cinemas this year,
Red Tails
stars Terrence Howard, Cuba Gooding Jr and Bryan Cranston.