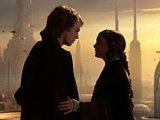 Star Wars
fans in Leicester Square will be able to see the six films in a non-stop showing.
Celebrations will take place all day on May 16 as UCI Empire begins its marathon with
A New Hope
at 7 a.m. Other films will be shown in order of release, culminating with the first showing of
Revenge of The Sith
to a thousand lucky fans in possession of a 'Galactic Passport,' available for £50.
The premiere of the new movie will be attended by director George Lucas, producer Rick McCallum and its stars including Hayden Christensen and Ian McDiarmid at the square's Odeon cinema.
McCallum said: "
Revenge of the Sith
is a remarkable movie, and this extraordinary celebration reflects the fun and excitement that are the hallmarks of
Star Wars
. The
Star Wars
movies have a strong connection to the United Kingdom, so it's very fitting to hold this one-of-a-kind event here in London."
Also attracting fans will be free performances of
Star Wars
music by the Royal Philharmonic Orchestra, as well as other surprise activities laid on by Lucasfilm Ltd and Twentieth Century Fox.
The film will be on general release on May 19.