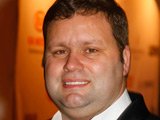 Paul Potts
has revealed that he would like Nick Frost to play him in a movie of his life.
Paramount Pictures holds the rights to the
Britain's Got Talent
winner's story and is currently
working
on
One Chance
.
"I've heard mutterings Nick Frost may play me," Potts told the
Daily Star
.
"I've seen his films and they're incredible."
Justin Zackham is writing the script, while
Becoming Jane
helmer Julian Jarrold is
expected
to direct the movie.