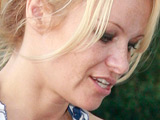 Pamela Anderson
has expressed doubt about the upcoming
Baywatch
movie.
Paramount is making the
film
, which is due to be written and directed by Jeremy Garelick.
However, Anderson told the
News of the World
that she still hasn't decided whether or not to appear in the comedy.
"They always ask me to do it," she said. "We'll see. I like
Baywatch
the way it was. I liked it as a TV show. I'm not a big fan of remaking television shows.
"But I know they want me to take a look at the script. So I don't know, I've yet to make a decision. I liked being in it back then."
Last month, two new writers were
hired
to join the project.