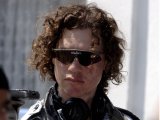 Chris Morris
has said that he never sets out to be intentionally controversial in his work
The
Blue Jam
comedian also told the
Nottingham Post
that he was not interested in satirising journalists in his upcoming movie
Four Lions
.
Morris said: "I don't set out to do anything to be controversial. You couldn't possibly do a piece of work that's just supposed to be controversial."
Of worries that his film could make him a target of violence, he added: "If people laugh for 90 minutes, it's very unlikely they'll get up and biff someone in the face for making them do that."
Talking about his three years of research for the movie, he said: "When I first started going to the High Court the journalists who were there immediately started thinking that I was going to take the mickey out of them. They didn't realise that they were too boring for that."
Four Lions
is released in the UK on May 7.