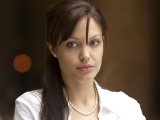 Angelina Jolie has been ordered by producers to stop labelling her new film,
Mr and Mrs Smith
, as a "black comedy".
"I'm not supposed to say 'black comedy', apparently, because they don't do well financially,"
Femalefirst.co.uk
quotes the actress as saying.
The movie, which also stars Brad Pitt, follows a pair of married assassins who are hired to kill each other.
Jolie added, "That's not a normal comedy as far as I'm concerned."