Movies News
Families call for 'Four Lions' boycott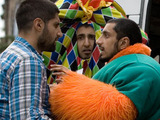 Families of the victims of the 7/7 London bomb attack have appealed to cinemas not to show
Chris Morris
's controversial new film
Four Lions
.
The comedy, which Morris says shows "the Dad's Army side to terrorism", tells the story of four Muslims plotting an attack on the London Marathon.
However, Grahame Russell and Graham Foulkes, who both lost their sons in the 2005 bombings, said that they are unhappy with the way that the film deals with the issue of terrorism and have called for cinemas to boycott the film, according to the
BBC
.
Talking about the film castmember Arsher Ali said in January: "A film like this is obviously a very strong counterpoint to the very serious side of it, which none of us condone, but there are human stories that need to be told, which can be quite touching."
Morris has previously said that he
doesn't set out to be controversial
and, while talking about the
Brass Eye
paedophile special, that some people
"like to complain"
.
Four Lions is available on

Watch now