Movies News
James Franco for 'Rise of the Apes'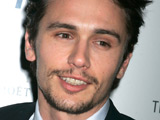 James Franco
is to star in
Rise of the Apes
, the prequel to the 2001 film
Planet of the Apes
.
The actor will play a scientist who intervenes in the war between humans and apes,
Variety
reports.
The film is said to deal with the consequences of human experiments in genetic engineering which lead to extremely high intelligence in apes.
Rise of the Apes
is scheduled to begin filming on July 5, with a release date of June 2011.