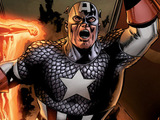 Details of an approved costume test from
Captain America: The First Avenger
have been posted online.
According to the website
JoBlo
, the superhero will don two outfits in the upcoming
Marvel Comics
adaptation.
Steve Rogers and his alter ego will appear in a primary costume inspired by the original comic books for his USO appearances, but later switch to an active duty suit that is more appropriate for combat.
"The suit actually has a practical WWII military look to it with some of the obvious Captain America flourishes that we would expect," read the site's description.
"It's hard to really pass judgement on a costume until you see it properly lit, in motion and doing what it's meant to do. But based on what I saw, I'm pretty impressed with how they were able to adapt the costume for the film."
The report went on to say that the final costume has a white base with two red utility belts acting as stripes, and includes a traditional army helmet rather than a cowl. The 'A' on the forehead remains and the Shield is true to the original design.
Directed by Joe Johnston,
Captain America: The First Avenger
is slated for release on July 22, 2011.