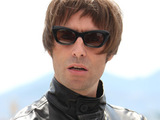 Liam Gallagher
has revealed that he wants to make a movie about his former band Oasis.
Speaking to
Pretty Green
, the website for his clothing label, Gallagher admitted that he is keen to put stories from more than a decade of touring with the rock 'n' roll group into a book or movie.
He said: "Yep, without a doubt. Very soon. Before I forget them all."
Gallagher also spoke about
developing
a Beatles/Apple Records feature film based on Richard DiLello's memoir
The Longest Cocktail Party
.
"Someone gave me the book ages ago and it was always knocking around our tour," he commented. "I read it over and over. Couldn't stop reading it. One of them books you can't put down. And I just thought: 'There's nothing else to do, now Oasis have split up I can do what I want.'"
Gallagher last month
announced
the formation of his post-Oasis group, Beady Eye.