Movies News
Voight praises "talented" daughter Jolie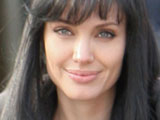 Jon Voight
has praised his daughter Angelina Jolie after watching her upcoming spy drama
Salt
.
The actor - who attended the premiere of the movie in Los Angeles this week - told
People
that Jolie's work in the movie was "terrific".
"Angie, for some reason, has this emotional capacity to make every piece of this really authentic, because it's really unreal stuff that they're doing," he explained. "But that's the genre and she gives another energy to it.
"She's very, very good. It's not like a novelty. She's really doing it... She's a really talented person with a very wide range and lots of interests."
The 71-year-old actor added that he will miss his six grandchildren while he films his new TV series
Lonestar
in Texas but plans to keep in touch with Jolie over Skype.
Salt
opens in the US tomorrow and in the UK on August 20.
> Who is Evelyn Salt? Find out here...