Movies News
LFF unveils awards shortlists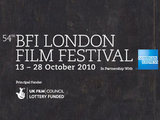 The 54th BFI London Film Festival has announced the shortlists for the awards at this year's event.
All prizes will be presented at a ceremony on 27 October at Jerwood Hall, LSO St Luke's.
The jury for the 'Best Film' award includes Andrea Calderwood, Antonia Bird, David Morrissey, Mike Goodridge and Tony Grisoni.
The nominations in each categories are as follows:
Best Film
127 Hours
Another Year
Archipelago
Black Swan
How I Ended This Summer
The King's Speech
Meek's Cut-Off
Never Let Me Go
Of Gods And Men
The Sleeping Beauty
Uncle Boonmee Who Can Recall His Past Lives
Best British Newcomer
Brian Welsh - Director/Writer - In Our Name
Clio Barnard - Director/Writer - The Arbor
Richard Ayoade - Director/Writer - Submarine
Michelle Eastwood - Producer - In Our Name
Tracy O'Riordan - Producer - The Arbour
Conor McCarron - Actor - Neds
Craig Roberts - Actor - The Arbour
Manjinder Virk - Actress - The Arbour
The Sutherland Award
Clio Barnard - The Arbor
Phan Dang Di - Don't Be Afraid, Bi!
Michael Rowe - Leap Year
Katell Quillévéré's - Love Like Poison
Mikhaël Hers - Memory Lane
Daniel Vega, Diego Vega - October
Philip Koch - Picco
J.B. Ghuman, Jr. - Spork
Richard Aoyade - Submarine
Alistair Banks Griffin - Two Gates Of Sleep
The Grierson Award for Best Documentary
Armadillo
Benda Bilili!
Circo
Maria and I
The Peddler
Pink Saris
The Tillman Story
Waste Land
BFI Fellowship
Danny Boyle