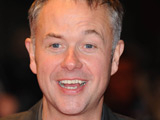 Three films have been added to the programme of the 54th BFI London Film Festival.
Michael Winterbottom
's
The Trip
reunites
Tristram Shandy: A Cock and Bull Story
co-stars Steve Coogan and Rob Brydon.
The feature-length version of an upcoming BBC series again stars both actors playing "loose versions" of themselves. It airs at NFT1 on October 27 at 6pm.
On the same day at 8.30pm, Michael Epstien's documentary
LennoNYC
screens at NFT2. Athina Rachel Tsangari's
Attenberg
will be shown on October 23 at 6.30pm in Vue West End.
Other recently-added movies include Sophia Coppola's
Somewhere
, which
screens
on October 27 at 7pm in Odeon West End.
Charles Ferguson's
Inside Job
documentary will screen on October 27 at 8.30pm and October 28 at 6.15pm in Vue Screen 6.
Filmgoers can book tickets through the official BFI website.