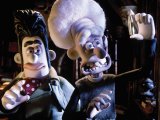 Wallace and Gromit: The Curse of the Were-Rabbit
has dominated Hollwood's annual animation awards.
The British-made film won nine awards at the 'Annies', beating
Howl's Moving Castle
and
Corpse Bride
to the award for best animated feature.
As well as this, it won directing honours for Steve Box and Nick Park, awards for writing, music, character animation, effects, storyboarding and production design.
85-year-old Peter Sallis also won an award for his role as the bungling Wallace. The actor has been voicing the role since Park began making films during his student days.
The film tells the story of cheese-obsessed Wallace and faithful dog Gromit's fight against a monster rabbit ravaging vegetable gardens. It is the first appearance in a feature-length film for the duo, who have previously appeared to much acclaim in three short films.
The awards, which are presented by the International Animated Film Society, have been said to frequently predict the winner of the best animated film category at the Oscars.