Movies News
Sandler, James for gay marriage comedy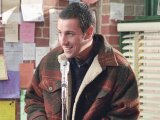 Adam Sandler and Kevin James are boarding I Now Pronounce You Chuck and Larry for Universal.

Directed by The Wedding Crashers' David Dobkin, the comedy is a reworking of the La Cage aux Folles concept, with two straight firemen masquerading as a gay married couple in order to qualify for domestic partner benefits.

Alexander Payne (Sideways) and James Taylor wrote the script. Tom Shadyac, Michael Bostick and Jack Giarraputo are producing.