Movies News
Hilton prepares for Mother Teresa role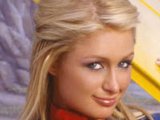 Paris Hilton is thrilled to be playing Mother Teresa in an upcoming biopic.
The hotel heiress has been approached by award-winning director T Rajeevnath, who is convinced that she will be a huge success.
"My agents in California have contacted Paris Hilton. I think she'll be a hit," he explained.
"The preliminary script has been readied. And the proceeds of the film would go to the Missionaries of Charity. By June this year, the groundwork for the film would be complete and I propose to begin shooting in West Bengal and several foreign countries in early 2007."
Hilton explained, "It's such an honour. I'm so excited. I really want to learn more about this amazing woman, so that's what I'm doing in a few months."
In preparation for the role, Paris is apparently joining the Order of Mother Teresa missionaries, and will travel around Bangalore and Calcutta to care for the sick.
A source told the
Daily Star
, "Paris is tougher than most people think. But I don't think she knows what she's let herself in for. The Calcutta nuns are notoriously strict, so she will have to be on her best behaviour."