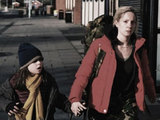 Scottish filmmaker
Brian Welsh
has said that he is staying in Egypt while the protests against President Hosni Mubarak continue.
On January 13, the writer/director of last year's Iraq War-based
In Our Name
revealed on Twitter that he was in the country, which has been struck by civil unrest since January 25.
Welsh returned to the site today and said: "Long time no tweet. Reason being that I am still in Egypt and I am planning to stay and watch things unfold here. Far away from the action.
"All forms of communication are scuppered but managed to get internet today. Food supplies and petrol etc. are running low (sic)."
He added: "What's been hard to watch is people's excitement at the potential for change changing to confusion, fear and despair.
"Most people want the same things in life I think. Fairness, food, shelter and the chance to be educated and better themselves and their children's future. It's easy to cynical about Politics back home but we totally take democracy for granted."
> Click here to watch our recent interview with Brian