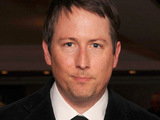 Joe Cornish
has revealed that meeting Steven Spielberg and Peter Jackson was "like meeting my maker".
In an interview with
The Observer
, the comedian explained that he managed to stay professional when he was
invited to work on the pair's script for The Adventures of Tintin
.
He said: "Meeting those guys was like meeting my maker. Spielberg and Jackson's films are hugely important to me. But I didn't giggle. I got on with the work.
"I put it out of my mind who they were in order to function, but every now and then Spielberg would say, 'When I was making
Jaws
...' and suddenly my mind would freeze as I was reminded."
Cornish added that working alone without the support of somebody like collaborator and friend Adam Buxton felt strange.
"It was a bit lonely," he said. "I missed the presence of an Adam, a co-conspirator. I'd love to do something with him one day - a musical, perhaps."
Cornish's directorial debut, sci-fi comedy
Attack The Block
, is released on May 13.
He recently returned to BBC 6 Music with Buxton
for a run of shows lasting 12 weeks.
> Cornish: "I've been a frustrated filmmaker"
Watch the trailer for
Attack The Block
below: