2
Movies News
Johnny Depp 'not sure about joining Pirates 5'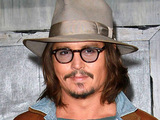 Johnny Depp
has revealed that he is uncertain that he will make a fifth
Pirates of the Caribbean
movie.
Depp spoke to
The Hollywood Reporter
about the future of the popular franchise, stating that he is not sure if he will return to the series after
Pirates of the Caribbean: On Stranger Tides
opens later this month.
"Boils down to story, script and filmmaker," said Depp of the decision to make a fifth
Pirates of the Caribbean
movie. "It's not something where I would say, 'Let's shoot it next month to get it out by Christmas 2012'. We should hold off for a bit. They should be special, just like they are special to me."
The actor recently
revealed that he was injured on the set of the latest film
, declaring that he was forced to work through the injury in order to meet the hectic shooting schedule.
At a conference held on Thursday for the upcoming film, Depp jokingly suggested an idea for the next two
Pirates
movies, according to
USA Today
.
"I have a clever idea for
Pirates
5 and 6," he said. "We're actually going to shoot it on the [Disneyland] ride. Just us going around in a circle. Just close-ups on everyone."
Penelope Cruz, who stars in the fourth film opposite Depp, recently revealed that the actor
was constantly making her laugh on the set
.
Pirates of the Caribbean: On Stranger Tides
opens in UK cinemas on May 18, and in the US on May 20.
Watch the trailer for the film below: