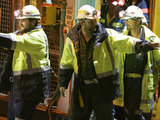 The survivors of Australia's Beaconsfield mining disaster have given the go ahead for a movie.
Todd Russell
and Brant Webb, who were trapped underground in a tiny chamber for two weeks, said that a film about the 2006 tragedy that saw them lose friend Larry Knight will help to give them closure.
Russell told
The Mercury
that the three-hour television movie will "draw a line" under their ordeal and clear up any questions that remain unanswered.
The pair said that they feel they owe the Australian public a full explanation of the events and the complex rescue mission and have given producer John Edwards lots of information to help make the film as accurate as possible.
Screen Australia's chief executive Ruth Harley said: "Beaconsfield is a very well-written, tense and emotional version of the mine disaster and subsequent rescue of two men 15 days later which will be sure to attract a significant audience."
The movie will be called
Beaconsfield
and will be aired on the Nine Network.
The TV channel recently secured the rights to Paper Giants
, a series about the launch of the Australian women's magazine industry.
It has also released an uncut version of 2008 crime drama Underbelly
after a judge lifted a ban that previously prevented scenes involving "flamboyant" underworld character Tony Mokbel being revealed.