0
Movies News
Johnny Depp signs up for 'The Thin Man'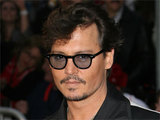 Johnny Depp
and Rob Marshall are working together once again to remake the murder mystery movie
The Thin Man
.
According to
Screen Rant
, Warner Bros. issued a press release announcing that the
Pirates of the Caribbean: On Stranger Tides
star and director had both officially signed on to the film.
Hailed as one of the greatest detective movies ever,
The Thin Man
starred William Powell and Myrna Loy as Nick and Nora Charles. The film was based on a novel by Dashiell Hammett of the same name and was followed by five sequels.
The
Alice in Wonderland
star revealed plans
to remake the 1930s thriller last October
. In March,
Twin Peaks writer Jerry Stahl commited to penning the film's script
.
Marshall has previously directed the musicals
Nine
and
Chicago
.
Depp
recently revealed that he was not sure he would return to make a fifth Pirates movie
. The actor
suffered an injury on the set of the franchise's latest film
, but was forced to work through the pain to meet the movie's hectic shooting schedule.
Watch the trailer for
Pirates of the Caribbean: On Stranger Tides
below:
The Thin Man is available on

Watch now