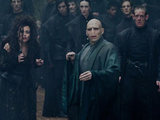 Helena Bonham Carter
has revealed that she felt "crippled" on the set of
Harry Potter and the Deathly Hallows
.
Speaking to
Empire
magazine, the award-winning actress - who plays Bellatrix Lestrange in the franchise - admitted that sword fighting scenes were physically demanding for her and Julie Walters (Molly Weasley).
She divulged: "You should warm up before sword fighting, that's what Julie and I found out when we were duelling with each other. We were crippled after that scene!
Bonham Carter added: "Duelling going backward on a table is tricky, without falling off. Which, of course, I did!"
Mark Williams, who portrays Arthur Weasley, joked of one particular scene involving the pair: "They could've sold tickets for filming that scene. They were chatting one minute and cutting each other to bits the next. It was brilliant!"
J.K. Rowling's epic wizard saga reaches its climax on July 15 with the release of
Harry Potter and the Deathly Hallows: Part 2
.
More on Harry Potter and the Deathly Hallows: Part 2:
> Tom Felton: 'Bonham Carter is Jekyll and Hyde'
> New Harry Potter and the Deathly Hallows: Part 2 poster
> 'Deathly Hallows' Hermione Granger poster arrives
> 'Deathly Hallows' Ron Weasley poster debuts
Watch the trailer to
Harry Potter and the Deathly Hallows: Part 2
below: