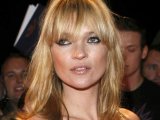 Kate Moss is to play drug addict Paula Yates in a new Hollywood movie, according to reports.
The film plans to tell the tale of Yates' romance with Michael Hutchence, which culminates in her dying of an overdose.
Her lover will apparently be played by Johnny Depp – a former boyfriend of Moss. Director Nick Egan thinks their chemistry could have a powerful effect.
"It could work beautifully or be a disaster, but producers want a powerful leading couple," an insider told the
Daily Star
. "Paula and Michael were both big drug users and lived a tortured existence. Turning their ill-fated romance into a film will not make for comfortable viewing."