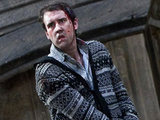 Harry Potter
stars
Matthew Lewis
and Rupert Grint interrupted yesterday's
Deathly Hallows
press conference to take a toilet break.
While the cast were answering questions about their favourite props from across the eight-film series, Neville Longbottom actor Lewis announced that he desperately needed the bathroom.
"In a true Neville Longbottom moment, 'Why is it always me?'. I really need the loo," he said. "[My favourite prop is] the Sword of Gryffindor, that's my favourite and I'll be back by the time these people have finished."
Grint also used the opportunity to excuse himself from the hour-long conference, saying: "I'm going to do the same... the flying car!"
Harry Potter and the Deathly Hallows: Part 2
will hold its world premiere tonight in Trafalgar Square ahead of its cinema debut on July 15.
More Harry Potter coverage:
'Harry Potter' fever: Hollywood pays tribute to the movie icon
> Harry Potter Deathly Hallows: Part 2 world premiere - live pictures
> Live: Watch the 'Harry Potter Deathly Hallows: Part 2' premiere
> Harry Potter Deathly Hallows: Part 2 final trailer released
Watch Matthew Lewis and Rupert Grint interrupt the
Harry Potter
press conference below: